Team Car Flag Ireland
Team Car Flag Ireland were the first to introduce car flags to Ireland in 1997. Since then our company has expanded producing not just car flags but all types of flags, banners and bunting for various different sporting and corporate events. 
We are licensed by Croke Park to produce official county crested flags. 
We also do licensed products for Munster Rugby, Leinster Rugby & Connacht Rugby. 
Clubs also form a large part of our business as we can cater for their individual needs. We have a large quantity of club colours in stock. We also personalize flags with club crests. 353-61-393231.
Daly's Hurleys – The Art of Hurley Making
Paddy Daly R.I.P. of Pallaskenry started making hurleys by hand in the late 1930's. The traditional craft involved a great deal of laborious effort from the felling of the ash tree to the demanding task of cutting out the hurleys by hand. Even with the help of his eight strong family, Paddy found that he was not able to meet the growing demand for hurleys.
In the early eighties, Paddy's son DJ decided to build a new factory and install modern equipment to develop the hurley making business, with assistance from Shannon Development under its small industry programme. This enabled the business to turn out 100 hurleys a day through combining the use of modern cutting, shaping and sanding equipment with the traditional skills which he learned from his late father.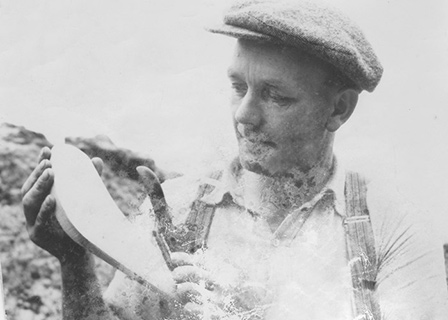 Paddy Daly RIP putting the finishing touches to a hurley, circa. 1955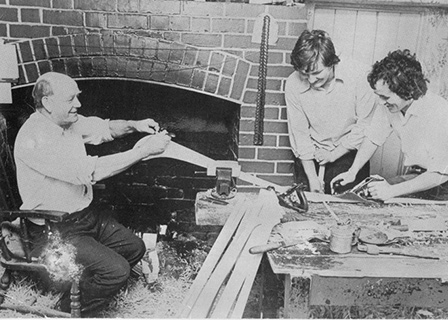 Paddy Daly RIP sharing with his son Gerard and Mike Gleeson the craft of hurley making, circa. 1978
Champion Hurleys now produce fifteen different sizes ranging from 16″ right up to 36″, although most of the work these days is done by machinery we still do all the finishing touches to our hurleys by hand. An exception is made for goalie hurleys, all of which are entirely made by hand.
DJ also has strong ties with the GAA outside of his involvement in the hurley making business. He played minor, under 21, junior and senior football for Limerick and also captained Askeaton to win the County Senior Football title in 1972. He was also Chairman of his local club, Pallaskenry, for 9 years.
In 2010, the third generation of Daly's – Pádraig Daly, DJ's son, launched Daly Champion Hurleys Ltd. Which incorporates the Champion brand of hurleys, sliotars, footballs, hurling grips and a wide range of sporting accessories. We welcome any queries from individuals or clubs, just give us a call at +353 61 393231.
Our History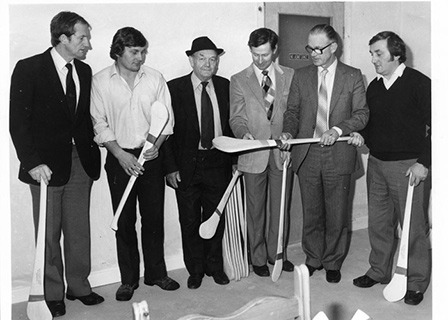 Pictured left to right: Eamon Cregan, Gerard Daly, Paddy Daly RIP, Jim Beary RIP (Shannon Development) Jim Hickey RIP (Limerick Co. Chairman), & DJ Daly. Inspecting hurleys at the factory in Pallaskenry, circa 1982.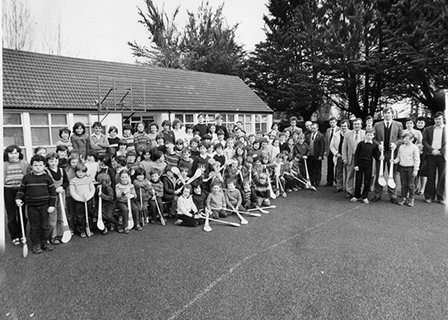 Limerick hurler Joe McKenna presenting hurleys donated by Daly Hurleys to the children of Pallaskenry NS, circa 1984.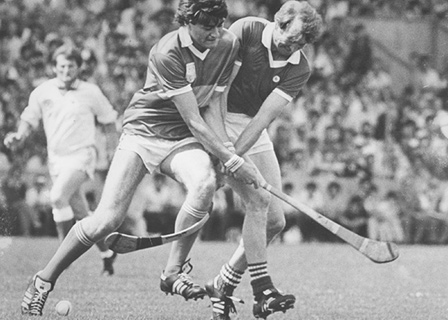 Action from a munster championship match (Cork vs Tipperary) circa mid 80's.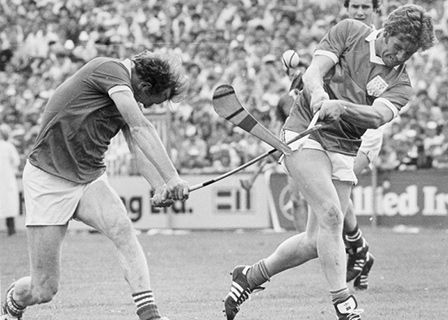 Action from a munster championship match again (Cork vs Tipperary), circa mid 80's.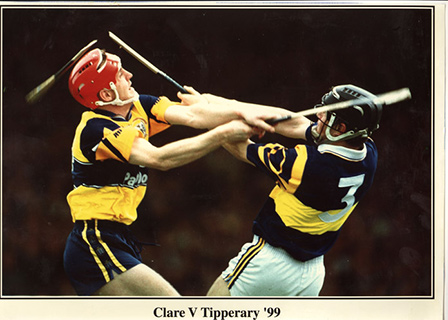 Scene from Munster Championship 1999 Clare vs Tipperary.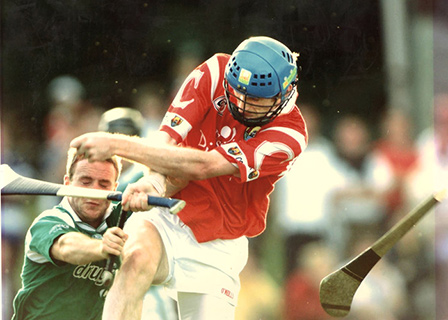 Cork full-forward Nicholas Murphy smashes Limerick wing-back Justin Daly's hurley as he shoots for goal in the Munster U21 Semi-Final at Bruff, taken 1999.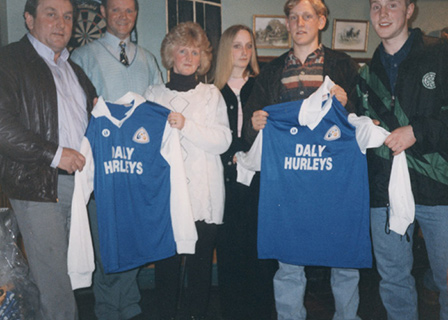 The Daly family (DJ, Theresa RIP, Diane, Padraig & Justin), presenting jerseys to Pat O'Connell (Chairman) of Pallaskenry GAA Club, taken 1995.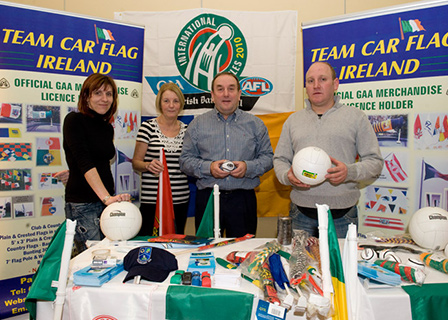 Stand at Ulster GAA Club Development Conference 2010 – pictured left to right: Catherine Fitzgerald, Kathleen Loftus, DJ Daly and Padraig Daly.